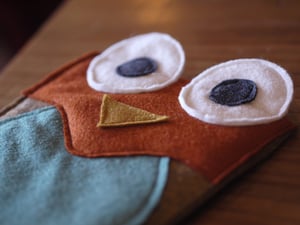 $

46.00
Albert is a mild mannered owl. He can often be found knitting little socks, which he gives as peace offerings to mice. Unfortunately, they often mistake him swooping down in their direction as attacks, but he just wants to be friends; Albert is a vegetarian so he has no interest in eating mice. He lives in a tall old pine tree in Forest Park in Northwest Portland.
This is a case for the iPad mini. Albert is custom made for you! Please allow 2-7 days for your felt friend to be lovingly handmade before being shipped to you.
International shipping is available. Please contact us for shipping rates.